© 2022 Elena Evgenievna PETROVSKAYA, Oleg Leonidovich TISHKEVICH
2022 – № 1(23)
---
DOI: 
https://doi.org/10.33876/2224-9680/2022-1-23/08
Citation link:
Petrovskaya Ye.E., Tishkevich O.L. (2022) Bioeticheskie problemy vspomogatel'nykh reproduktivnykh tekhnologiy v period pandemii COVID-19 [Bioethical Problems of Assisted Reproductive Technologies During the Covid-19 Pandemic], Meditsinskaya antropologiya i bioetika [Medical Anthropology and Bioethics], № 1(23).
---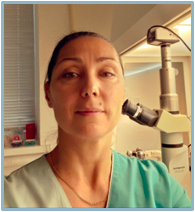 Elena Evgenievna Petrovskaya –
.
Embryologist of the IVF Center "Embryo"
(Minsk, Republic of Belarus)
.
https://orcid.org/0000-0001-5926-1430
E-mail: elena_embryo@rambler.ru
---
Oleg Leonidovich Tishkevich –
Reproductologist, chief physician of the Center for Assisted Reproduction "Embryo"
(Minsk, Republic of Belarus)
.
https://orcid.org/0000-0002-6388-5227
E-mail: oleg.tishkevich@gmail.com
---
Keywords: assisted reproductive technologies, surrogacy.
Abstract: The emergency epidemiological situation caused by the COIVID-19 pandemic provoked massive epidemiological events and forced an unprecedented scale of action, which also affected assisted reproductive technologies. Due to strict quarantine measures and border closures, babies born by surrogate mothers for foreign citizens could not be given to biological parents for several months, which caused a whole range of ethical problems. The work of IVF centers was also suspended, which caused serious problems for patients of older reproductive age, patients with low ovarian reserve, and free IVF programs were stopped. The situation with the pandemic highlighted the imperfection of the legislation and showed its inconsistency with ethical principles in relation to patients.
References
Tishkevich, O.T., Zhabinskaya, A.B., Petrovskaya, E.E., Alekseeva, E.V., Volokhanovich, S.M., Stanulevich, A.E., Chernomorets, Yu.V. (2017) Vozrast i operativnye vmeshatel'stva na jaichnikah kak faktory, opredeljajushhie jeffektivnost' lechenija besplodija metodami JeKO [Age and ovarian surgery as factors determining the effectiveness of IVF infertility treatment], Reproduktivnoe zdorov'e[Reproductive Health], vol. 7 No. 5, p. 843–846.