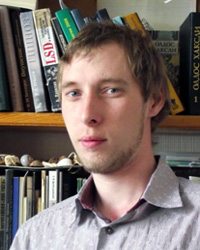 (Russia, Volgograd)
Education: Volgograd State University – Department of Archaeology of Ancient and Medieval History (BA), 2008. The Department of Religious Studies (MA) 2010.
Current employment, position: independent researcher
Academic interests: medical anthropology, prehistoric culture, ancient and modern ritual activities and studies magic and the occult
E-mail: Natura-kunst@yandex.ru
Skype: likhomanov_alexander
Main publications:
Likhomanov A.E. Cults health. «Shamanic» psichotechnics in the urban environment // The Moscow Society of Religions at the Faculty of Moscow State University. MV Lomonosov VIII Annual Conference on Religion and Media (P). Collection of materials. May 12-15, 2010. M., 2010. Р. 65.
Likhomanov A.E. Sacred-psychotherapy practice in post-industrial society / / Worlds of cultures and a culture of peace. Collection of the third All-Russian scientific-practical conference "Practical ethnopsychology: Current Problems and Prospects": 11-12 March 2011. M: MGPPU, 2011. Р. 65–66.
Likhomanov A.E. «Shamanic» psichotechnics in the urban environment (based on a study of the situation in the city of Volgograd) / / City's sociology.2010. N 4. Р. 47–52.