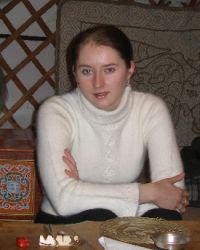 (Russia, Moscow)
Academic degrees: Ph.D. in History
Current employment, position: independent researcher
Academic interests: Medical Anthropology, Anthropology of Consciousness, History and Anthropology of Alaskan Natives, Colonization of Alaska and American North West Coast
E-mail: elenasp2003@mail.ru
Main publications:
Human Health and the Problem of Sustainable Development in the Arctic. Proceedings of the V Northern Research Forum "Seeking Balance in a Changing North", Anchorage, Alaska, September 27-29, 2008. http://www.nrf.is/index.php/publications/seeking-balance-in-a-changing-north (co-author V.I.Kharitonova)
Politika RAK v otnoshenii kreolskogo naseleniya koloniy // Materiali III mezhdunarodnoy konferencii «Russkaya America» 8-12 August, 2007. Irkutsk. Irkutsk, 2008. P. 65-71.
Osnovnie mehanizmi etnokulturnogo vliyaniya na Alaske v period rossijskoy kolonizatsii // Izvestiya Rossijskogo gosudarstvennogo pedagogicheskogo universiteta im. A.I.Gertsena. Stp., 2007. P. 42-51.
Kreoli Alaski v svete processov mezhkulturnogo vzaimodeystviya // Etnograficheskoe obozrenie. 2007, №6. P. 71-87.
Sovremennie etnosocialnie issledovaniya v Kanadskoy i Amerikanskoy Arktike. М., 2005. 34 p. (seriya «Issledovaniya po prikladnoy I neotlozhnoy etnologii», IEA RAS, № 179).