© 2015 V. I. Kharitonova
2015 – №1 (9)
---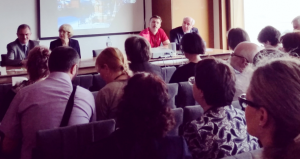 Abstract. On June, 28-30, 2015, the III All-Russian interdisciplinary scientific and practical symposium "Medical Anthropologists: Problems, Methods, Research Field" was held in Moscow. It was initiated by the Russian Association of Medical Anthropologists (AMA). The purpose of the third symposium was to discuss a wide range of problems: methodological, theoretical and practical issues related to medical anthropology. At the same time, the overarching goal of the activity remained the unification of specialists of different scientific profiles into a comprehensive scientific direction, as well as discussion of the prospects of training of medical anthropologists – scientists and practitioners – in Russia.
It should be noted that the number of those who wanted to participate in the event gradually increased from the first symposium: more than 150 applications were received for the third symposium; 135 specialists, mainly from the Russian Federation, were invited to participate, but along with them, researchers from different countries (including the USA, Canada, Peru, Australia, Poland, Italy, Estonia, Bulgaria, Hungary, Kyrgyzstan). Unfortunately, not all the guests could come personally, however, partial online communication did not interfere with the scientific work.
Key words: symposium, medical anthropology, theory, methodology, reproduction, social inequality, stigma, mental health, non-conventional medicine, integration of medical systems, traditional medicine, folk medicine, education.