© 2011 A.D. Donika, N.V. Sergeeva
2011 – № 2 (2)
---
Key words: scientific and practical journal, bioethics, edition structure, journal thematic sections, medical practice, scientific electronic library
Abstract: The article gives an overview of the first scientific and practical journal dedicated to bioethics, which is published in Russia (in Volgograd city).
---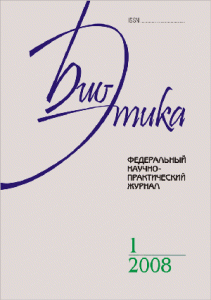 In 2008 the Volgograd State Medical University published the first issue of the federal scientific and practical journal of bioethics.
The need for such an edition is conditioned by extensive development of a new science called forth to comprehend and regulate the introduction of new biomedical technologies related to genetics, reproduction and transplantology. Bioethics aims at revealing different points of view on the most complicated moral issues generated by the progress of biomedical science and practice in abundance. The development of bioethics in Russia can promote the humanization of biomedicine, develop ethical self-awareness of the medical community as well as establish new ethical standards for this community and realize moral collisions and dilemmas which the physicians face in their everyday work.
Medical sciences and practice make up the conceptual part of bioethical intellectual and regulatory procedures. Bioethical principles are also applied in pharmacy, veterinary medicine, and agriculture. These principles are closely associated with journalism and teaching. Bioethics is considered to be complementary to juridical sciences, especially medical law. Thus, the scope of bioethical research and practice is quite broad.
Moreover, it is essential to improve the quality and enhance bioethical education to be competent in discussing and solving the most crucial problems generated by new biomedical technologies. Bioethics has been recognized as an obligatory course within medical education since 1999. The federal journal of bioethics will enable physicians, lawyers, scientists, activists of non-governmental organizations to extend current knowledge of bioethics.
The present edition aims to elaborate theoretical and regulatory bases of bioethics as a regulator of the moral attitude to health and human life, education in the field of ethical problems of contemporary medicine and other sciences studying a human, an exchange of experience and the information among the experts in bioethics.
The basic headings of the scientific journal are as follows:
– Theoretical problems of bioethics;
– Ethical issues of the implementation of the "Health" National Project;
– Bioethics and medical law;
– Sociological research in bioethics;
– Ethical problems of clinical research and trials;
– International documents in the field of bioethics and medical law;
– Bioethics in the world;
– Practical course of biomedical ethics;
– Work experience of ethical committees;
– Aid for those studying biomedical ethics.
The journal is of practical value not only for a wide range of researchers, but also for practicing physicians as the cases described in the section "Practical course of biomedical ethics" highlight the ethical problems associated with the introduction of new biotechnologies in medical practice. Moreover, the published cases from medical practice can become a subject of analysis at practical classes in bioethics for under-graduate and post-graduate students of medical higher schools as well as for students of medical colleges.